News
December 16
We will host a talk on the 7th January:
Members of Kindling Housing Co-operative welcome you to a skill-share session on their governance structure and financial model.
Kindling is the first Housing Co-op in Oxford to be setup and to successfully purchase a house in over 17 years. They have done so at a time when homes in the city have never been less affordable. Meet some of the members and find out how they did it.
For more information on the Co-op, visit kindlingcoop.org
August 16
So we didn't get the Wolvercote Paper Mill site. At the time of writing (July 2016) we still don't know who has won it. But we believe it to have been a high unconditional bid (that is not conditional on a further planning application). Oxford Cohousing's bid was part of the Homes for Oxford (HfO) bid. This was for £16m and was conditional on further planning to increase the number of homes while decreasing the number of cars (from 384 to 240 or less). If successful HfO's bid would have seen one third open market homes, one third shared ownership (at an average of 65% of open market price) and one third social rent, so that's two thirds genuinely affordable homes. And we would have ensured they were permanently affordable by having no Right to Buy. And as well as having a specific Oxford Cohousing cluster, the cohousing idea of building in neighbourly clusters would have been adopted across the whole site with all homes being configured around quads or gardens and all cars kept to the edge of the site. This idea would have been combined with almost passivhaus standard of build. In short, this would have been a ground-breaking development. What a shame the University felt it had to go for the money and didn't feel able to take into account the undoubted social and environmental value of our proposals. The scandalous thing about this whole saga is this: it's likely that the winning bidder has paid so much for the site that there will be few, if any genuinely affordable homes on offer. Let's wait and see.
Read about the bid in detail in our bid brochure here: https://www.dropbox.com/sh/kdjtowa3xgikklh/AADBQ0Ps0sD7gbRVfpyCJ_Tka?dl=0
So what's next?
We gathered such momentum and energy from working with HfO to do the Wolvercote Paper Mill bid that we will carry on and continue to look for other sites with HfO. The HfO umbrella includes Oxfordshire Community Land Trust and several small coops. Now we are working together to look at several other sites inside the ring road. We hope that the next time we make a bid (the third time…..) we'll be ready to see off any competition.
What you can do:
1. If you read this before August 5th help us by getting involved in influencing the City Council's Local Plan, the consultation period is underway at the moment. This could help us by having a policy that privileges community led homes. http://consultation.oxford.gov.uk/consult.ti/OLP2036_First_Steps/consultationHome
.  When you complete the questionnaire, ask for more community-led homes using the Land Trust model or similar to ensure no Right to Buy and therefore permanent affordability.
2. Join us and come to our regular meetings so we can build up a strong group of people ready to go as soon as we find a site.
May 2016
Our Bid for the Wolvercote papermill site has been submitted.
May 2016
If you are interested in our project for the papermill site in Wolvercote, look here.
May 2016
One of the sites that we have had on our list for some time is the Oxford University Press papermill site in Wolvercote.  After outline planning permission was granted in December last year for 190 houses, the site has finally gone on the market.  The deadline for bids is 25th May.  Great efforts are being made for cohousing to be included as part of a wider development on this site.  A new umbrella group, bringing together representatives from Oxford Cohousing, Oxford Community Land Trust, and two housing cooperatives, has been working hard to develop a credible bid with a developer partner.  We are hoping that the bid, if successful, would mean that Oxford Cohousing can build our project on part of the site.  We are very keen to attract new members interested in living in Wolvercote, so that we know we can form our community of between 20 and 40 households.  Please contact us if you are interested.
April 2016
Exciting news. Oxford Cohousing, Oxford Community Land Trust, Kindling Housing Coop and Happy House Coop have formed "Homes for Oxford". Together we will put in a bid for the Wolvercote paper mill site (see also this PDF).
We held our AGM (details will appear soon)
November 2015
Our first bid for land was unsuccessful but we are not daunted!
Of course we are disappointed. Our project to build a cohousing community in Oxford was starting to take shape, with the Stansfeld Outdoor Education Centre on the market. We received much interest and encouragement from the local community, Oxford City planners, our MP, the leader of the council, and other councillors and officers. We were successfully short-listed in the first round of bidding and it really did seem as though our dream might become a reality. But we heard a couple of weeks ago that our second-round bid has been beaten.
It's been a lot of hard work and cost for us to get to this point. We are not daunted however. We know that our bid was a serious contender so we have proved we can do it. We are now stronger to go forward and find another site. We are starting to look actively at sites we considered in the past, like the Wolvercote Paper Mill (currently going through outline planning application) and others. We have the capacity now: money, partners etc.
We know that cohousing is a good thing, with a side range of social and environmental benefits for their residents and the wider community. Cambridge has a cohousing scheme being built. If they can do it (and many others across the country), why can't we? We are determined to push ahead and make this idea into a reality in Oxford.
September 2015
We've done it!  We made the deadline for submission of our second-stage bid to buy 16 – 17 acres of land in Oxford.  The land, owned by Birmingham City Council, went on the market earlier this year, with a two-stage bidding process.  Our first bid went in in May and we were shortlisted with two other organisations for the second-stage bidding process.  It's been a huge amount of complex work, led by our Project Manager, Jimm Reed, and our development partner, TOWNhus, ably assisted by some of our members, but we've arrived at an agreed sum for our second bid and this was submitted to Birmingham by the 4th September deadline!
Phew!  If we are successful – and we'll hear in late September – we will start working on our finalised design for the built environment, recruiting new members, getting the finances lines up – yet more, but very exciting, work! Anyone interested in knowning more, please get in touch!
July 2015
As reported in May, our bid went in to Birmingham City Council to buy Stansfeld Outdoor Learning Centre, a 16 – 17 acre site on the edge of Headington. We kept our fingers crossed for a few weeks, then, to our great delight, learned in June that we had been short-listed with two other bidders for the second stage in the bidding process.
So we haven't had much time to relax between getting the first bid in and starting work on the second stage of the bid. This time we have to put in a final offer to Birmingham, with only planning permission required from Oxford City Council to give the go-ahead to our project. The deadline for the second stage is early September. We didn't know at first who the other bidders were, but we have learnt recently that the Oxford Trust is one of them.
The terms of this final offer mean that we have to have found out by then any costs involved in remedying problems with the site – dealing with access, geology, hydrology, ecology and so on – and taking those into account for calculating the sum we can offer Birmingham. We have continued to work with our Project Manager, Jimm Read, and our developer partner, TOWN, to tackle all the work that needs to be done between now and early September. TOWN are organising surveys to address the questions listed above, and Jimm is playing with figures on a very complicated spreadsheet, trying to work out how many housing units, of what size and tenure, we can afford to put on the site. We will be having a pre-planning meeting with Oxford City Council in August to obtain some guidance on what is likely to obtain planning permission.
Our members are meeting TOWN on 20th July to discuss the design and layout of the site. Existing cohousing communities stress the importance of getting the design right in order to encourage and facilitate interaction between people living on the site. The position of the common house is important, as are walkways, gardens, parking, disabled access, and so on.
So these are exciting and busy times for us. If we win the second stage bidding process, if Oxford City Council grants us planning permission, and if we can raise the necessary finances, we will be looking to recruit more people to live on the site. If you are interested, please get in touch soon and come along to our next open meeting. Look at our 'Events' page to get more details.
May 2015: Oxford Cohousing in the Oxford Mail
Activists plan to turn centre into homes
May 2015: Exciting times!
We've done it!  We've put in our bid to buy Stansfeld Outdoor Education Centre in Headington.  The deadline for bids was Thursday 14th May, and our bid arrived with Birmingham City Council Estates Office before 9am in the  morning.  
It's been a huge amount of work to get to this stage, since we decided to bid for the site when it went on the market in March.  We appointed Jimm Reed as our project manager and he has led the work needed to put a bid together.  The site was registered as a community asset, meaning that a six-month moratorium could be triggered, delaying the sale until September.  The moratorium was triggered (not by us) and we thought it meant that we'd have until September to put a bid in.  But no, it only meant that Birmingham can't sell to anyone other than a community group before that date.  And the deadline for bids remained as mid-May.  
So intense work was needed to contact potential partners – developers, housing associations, funders – and get their commitment to our project.  Those partners have been positive and prompt with their responses, and we have managed to get to a place where it seems that the sums added up.  Jimm has worked closely with two of our members, Fran Ryan and Diana Musgrave, and special thanks must go to them for the time commitment they've put in to finalise the bid.  
Eye-watering sums of money are involved! Land is of high value in Oxford!  We're not at this stage revealing what our bid for the land was, nor how many houses we propose to build – we hope you understand that this information is commercially sensitive at this stage.   
If we are successful in this first stage, there's a second stage for which we have to detail our plans to manage the woodland.  We are already in contact with a number of organisations interested in supporting us in this aspect of the site.  Our contacts with the Stansfeld Stakeholders Group have been positive so far, and will continue.  
So, fingers crossed that when Birmingham Estates Office opens the sealed bids next Monday morning, they choose ours!
If you've come to this site for the first time and are excited by what you read, get in touch, join us!  Find out more!  Come along to our next meeting on Saturday 23rd May, 12 midday at Florence Park Community Centre.  
March 2015
Exciting news and lots of hard work to come!
Stansfeld Outdoor Education Centre is on the market, as from early March! The whole site, that's the existing buildings and the woodland, are included in a 250 year lease, which is for sale by Birmingham City Council. The deadline for the first stage of bidding is mid-May. We are determined to put in a bid. We have decided to appoint a Project Manager to help us with this work.  He is Jimm Reed, who is already helping other cohousing groups and has been helping us with our financial planning.  In order to get the bid together, we need to have partners – developer/builder, registered provider for the social housing, funders – with commitment to our project. Jimm is coming to Oxford this month to start meeting potential partners. The site is registered as a community asset by the Friends of Quarry, who have the right to trigger a six-month moratorium to give community groups the time to put in a bid. We wait to see if they are going to do that.  If we are successful in the first round of bidding and are short-listed, the second round has to include our proposals for the management of the woodland, and we are actively pursuing possible partners to do this.
It's all very exciting and challenging.  If you want to get more involved, now that we have a definite site to aim for, please get in touch and give us your energy at this crucial stage in the life of Oxford Cohousing.
March 2015
The new Annual Report is available.
February 2015
Come to 2015 AGM 11 am Saturday 21st February at Florence Park Community Centre .
We start every year full of hope and new resolutions, but this year is a bit different because there is a site about to come on the market and we are planning to bid for it!
Come to our AGM and hear more.
So this is a great time to join if you are interested in living in cohousing – whether you want to buy, part-buy, or have an affordable rental property.  We are particularly interested in attracting members under 50 and we especially welcome those with young children. We plan to create a mixed community with people of all ages and sizes!
November 2014
Found a site! In Oxford!
We recently decided to take the next step to prepare a bid for a site that will soon be on the market. We have appointed our professional team which includes Transition by Design. We have also appointed advisers to do some essential work in preparation for a bid, including an ecology survey, looking at how we access the site and financial planning.
The site is expected to come on the market any time now. And we need new members…
August 2014
We've had a very busy few months and have recently appointed architects Transition by Design to support some initial site appraisal. We are meeting Oxford City Planners in September to discuss our plans and then we hope to bid for a site.

So now's a great time to join, we are seeking new members so please come and  meet us at our next open meeting on the 25th Oct 14. Or send us a message via the Contact Form.

May 2014
Fran and Diana spent the weekend at Lilac cohousing community in Leeds
in May. 20 new homes of varying sizes built using an innovative
timberfame and strawbale construction method.
http://www.modcell.com/completed-projects/lilac-affordable-ecological-co-housing/
February 2014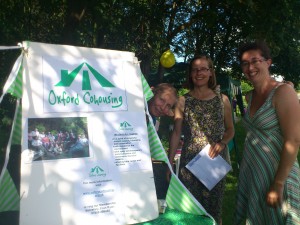 We had a really great day on 22nd February when we combined our AGM with an open meeting.  20 people came to the open meeting and there was a feeling of great enthusiasm and interest and energy for the project.  We realised that it is very important that we grow the membership now so that we create a group of fully signed-up people who want to make this project happen.  To that end, we are going to hold monthly meetings in Florence Park Community Centre, with a focus on particular topics at each meeting.  If you are not a member, and want to find out more, come along to one of those meetings.  The dates and details are listed on the 'Events' page.
July 2013
On June 24th 2013 we spoke to Oxford City's Full Council and asked for their support in three ways. Read more here or go to council website Item 11 about 11 mins in to see Fran reading our speech here .
Our next meeting

1st Apr AGM and open meeting.
Florence Park Community Centre.
11am

Quick links